On her path to ageing gracefully, cosmetic chemist Terri (Vinson) Jones shares her personal routine.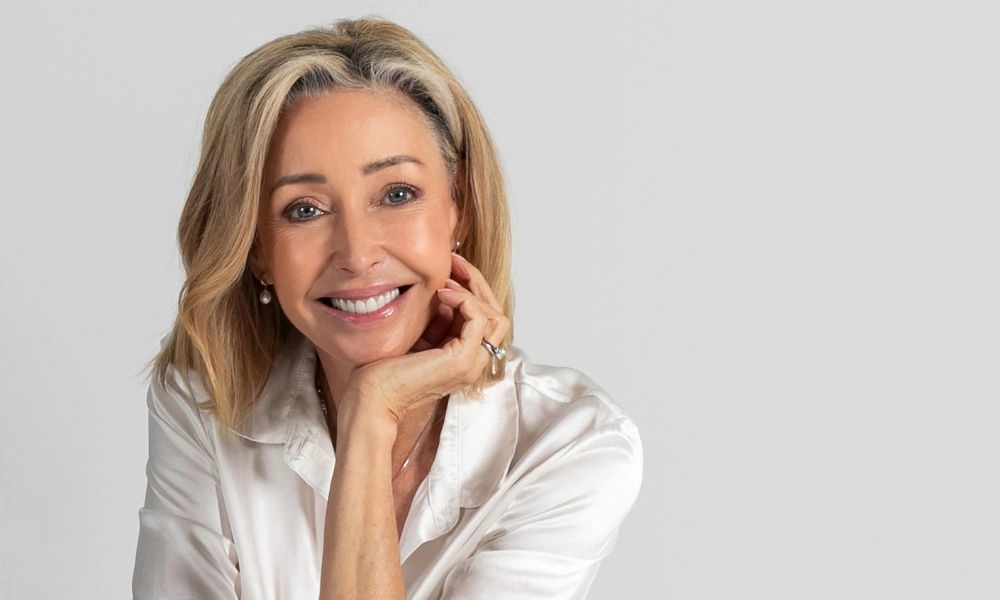 Whilst the beauty industry often portrays ageing as a battle to be fought, we prefer to recognise this natural biological process as the privilege that it truly is. Ageing isn't a disease to be hidden, but a journey to be celebrated. Terri, a proponent of holistic health and vitality at every age, exemplifies a path to graceful ageing by sharing her personal morning and evening age-defying skincare routine for mature skin. The following curated selection is a testament to the regenerative power of Synergie Skin's advanced formulations; with collagen boosting skincare designed to protect and nurture the skin as it enters its golden years.
Morning Routine:
Terri begins her day with a practical first step – UltraCleanse. This cleansing gel, aside from its efficient cleansing prowess, balances her skin's pH without stripping natural moisture and prepares it for the subsequent skincare steps.
2. Dermiotic pre-serum elixir
Incorporating Dermiotic into her routine, Terri acknowledges the importance of a well-maintained skin microbiome. This elixir's blend of prebiotics and postbiotics supports skin health, managing redness and irritation, whilst fostering a balanced ecosystem and a healthy skin barrier.
3. SuperSerum+ youth renewal serum
Terri's choice of SuperSerum+ – with its clinically-backed peptide, botanical, and algal biotech blend – is designed to deeply hydrate, mimic muscle relaxant effects, encourage cell renewal, minimise fine lines, and stimulate firmness. This 6-in-1 active blend ensures a resilient, volumised, and regenerated complexion.
4. Effica C essential vitamin C serum
Effica C fits seamlessly into Terri's routine as a daily essential antioxidant protective measure. Harnessing the synergy of vitamin C (ATIP/ascorbyl tetraisopalmitate) and coenzyme Q10, this clinically-backed, non-acidic serum efficiently combats environmental free radical damage throughout the day, reduces fine lines, and promotes a more even skin tone – all while being gentle enough for sensitive skin.
Terri's eye-care selection, ImprovEyes Day, exhibits a pragmatic approach to addressing concerns related to the delicate eye region. This serum for mature skin contains hyaluronic acid and advanced eye-specific peptides to target puffiness, dark circles, and fine lines. This lightweight eye serum is ideal for the morning routine when applied under foundation as the serum will not crease under the eye area
6. ÜberZinc essential daily moisturiser
Terri wraps up her morning routine with ÜberZinc – a well-rounded solar protector that combats UVA, UVB, inflammation, and oxidative stress. With 21% zinc oxide, it's an everyday protective shield aligned with her commitment to daily protection and skin health span.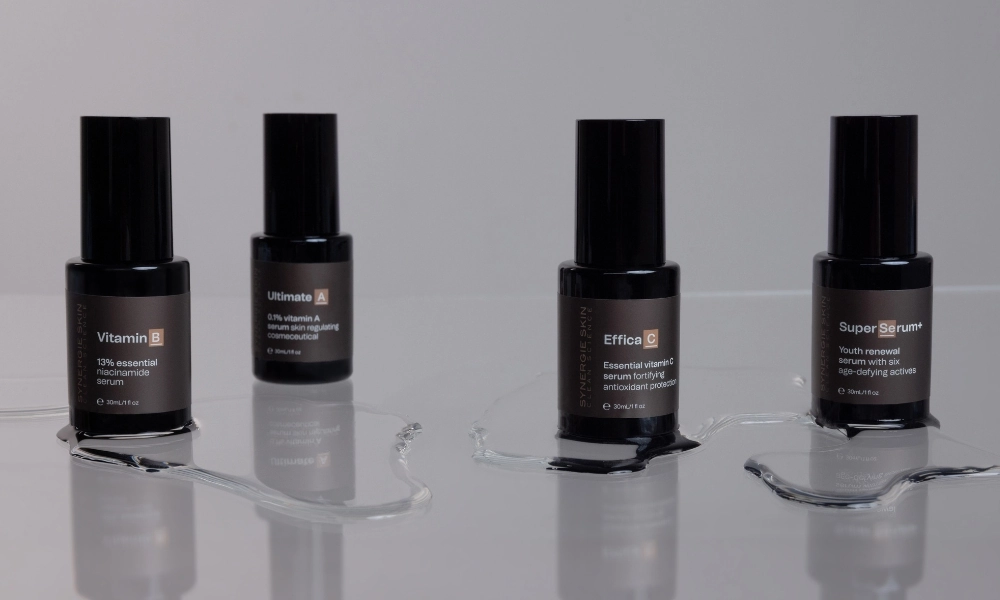 Nighttime Routine:
Night time signals another round of UltraCleanse, ensuring her skin is cleared of the day's makeup and impurities.
2. Dermiotic pre serum elixir
This is definitely a twice daily ritual for Terri. The delicate microbiome is constantly under attack and it is important to rebalance at the end of the day, particularly following the daily ravages from environmental aggressors.
Acceler-A occupies a pivotal role in Terri's routine, embracing the power of the new retinoid: hydroxy pinacolone retinoate (HPR). This vitamin A serum is vital for new skin renewal, boosting collagen, reversing solar damage, and reducing uneven skin tone.
4. XCell B accelerated vitamin B serum
Terri's selection of Synergie Skin's award-winning vitamin B niacinamide serum aligns with her affinity for science-backed multi-functional formulations. With a megadose 21% concentration of niacinamide, vitamin B3 boosts natural ceramide production and hydration for optimal barrier health, reduces irritation and redness, minimises fine lines, and enhances luminosity. This is Terri's number one favourite product.
5. ReClaim moisturiser
Terri loves the power of this age defying moisturisers, so she often uses it twice daily. ReClaim to the rescue again. This superstar moisturiser is also an overnight workhorse for skin cell renewal within the collagen boosting skincare space – ensuring she wakes up feeling rejuvenated inside and out. ReClaim is her ideal finisher in this skincare routine for ageing skin.


Weekly Routine:
1. MasquErase weekly treatment mask
After Reclaim is fully absorbed, she adds a generous layer of her MasquErase overnight mask. The nutritive blend of rich emollients, algal skin boosters, and soothing botanicals works while she sleeps to repair, restore, and calm mature skin.
---
Terri's skincare journey embodies a scientifically informed approach to holistic vitality for mature skin. Her self-care skin routine celebrates the process of positive ageing. Her formulations harness evidence-based ingredients to defend the skin against internal and external environmental aggressors, whilst nurturing the skin's natural radiance at every age.
[Disclaimer: This blog is for informational purposes only and does not substitute professional medical advice. Consult a dermatologist or skincare professional for specific concerns.]