Proving for the second year running that Synergie Skin are the skincare products that experts choose, Synergie Skin is proud to announce three exclusive partnerships with major Australian designers for Fashion Week 2023.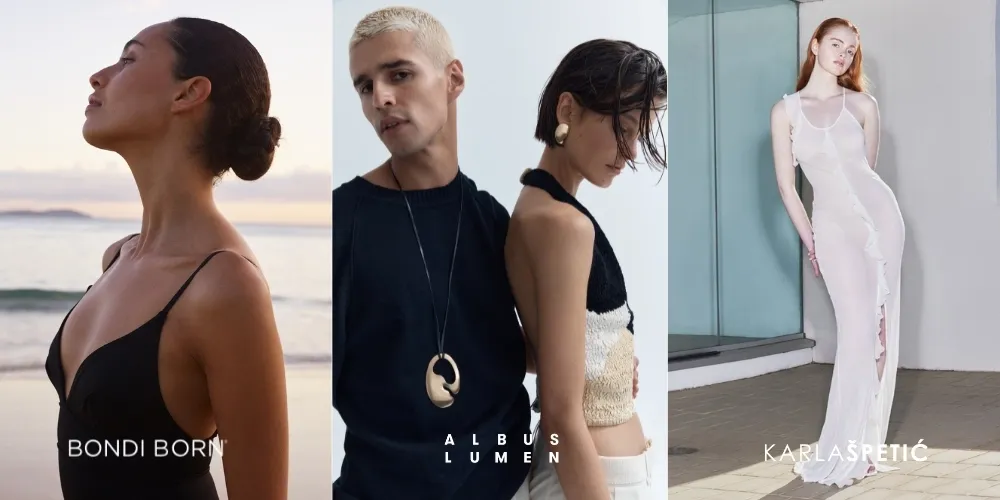 While fashions are fleeting, healthy, radiant skin is always in. This May, Synergie Skin founder and world-renowned skin scientist, Terri (Vinson) Jones, will be in Sydney with the Synergie Skin team for Fashion Week.
"We are thrilled to showcase clean, Australian skincare in the spotlight this Fashion Week and partner with three designers with strong female founders at the helm of their brand," says Terri. "Educating and empowering people to make informed decisions about their skin is our number one passion, and Australian fashion week gives us the perfect platform to communicate this message."
The Synergie Skin range will be used by professionally-trained make-up artists to prep all partnership models backstage before they hit the runway. Synergie Skin has partnered with the following three iconic female-led Australian brands that each share a mission to radiate confidence, elegance, and feminine empowerment:
Bondi Born
Founded by Dale McCarthy, Bondi Born is a majority female owned and run business based in Sydney, creating sleek, sophisticated swimwear and apparel. Using only the finest quality, sustainably produced fabrics and premium local craftsmanship, Bondi Born delivers superior performance for optimal look, fit, feel, and longevity.
Albus Lumen
Albus Lumen is confidence in simplicity. Latin for white light, it is not weighted down by trends, but grounded in the core elements, drawing strength from detailed minimalism. Simple shapes and classic modernity create subtle yet striking contrasts. Beautifully light, quietly confident, powerfully feminine.
Karla Špetić
Karla Špetić has garnered international industry recognition for her signature soft tailoring and feminine fabrications. Her designs have been worn by the likes of Solange and Beyoncé Knowles and supported by prominent international bloggers including Natalie Joos, Susie Lau of style Bubble, and Leandra Medine from The Man Repeller.
Runway-ready skincare
To celebrate these partnerships, Synergie Skin has curated a backstage skincare collection with six products designed to illuminate skin. Supported by clinical data, the 2023 skincare edit offers evidence-based solutions to achieve glowing, refined, and balanced skin:
This no-rinse micellar water effortlessly cleanses, purifies and dissolves makeup from the face, eyes, and lips. Enriched with Canadian willowherb and sodium PCA, this calming and hydrating formula will leave your skin balanced and refreshed.
This luxurious milky cleanser contains a proprietary blend of gentle surfactants to remove makeup and surface grime. This pH balanced blend is designed for dry and sensitive skin, to thoroughly cleanse without stripping the naturally protective barrier oils.
A daily elixir fortified with prebiotics and postbiotics to balance the surface microbiome of the skin. A few drops target the appearance of skin stress, redness and irritation, leaving your skin feeling balanced, soothed, and refreshed.
A lightweight, soothing moisturiser enriched with advanced peptides to strengthen the skin barrier and reduce redness. Ideal for comforting, calming and repairing delicate skin.
A luxurious skin-smoothing moisturiser to instantly lift and volumise skin for up to 8 hours. This best-selling formula stimulates your skin's own collagen production to smooth fine lines and wrinkles. It is the ultimate hydration booster for runway ready skin.
Harnessing the power of eight active oils, LumiBalance is an award-winning facial oil that moisturises and protects the skin from free radical damage, whilst reducing fine lines, and enhancing radiance for a luminous complexion.
Synergie Skin will host a range of giveaways and exclusive show-stopping backstage events during Fashion Week 2023. Expect to hear more in upcoming announcements!
DISCLAIMER: Synergie Skin is proud to have independent collaborations with each designer mentioned in this blog during Fashion Week season. However, Synergie Skin is not an official sponsor of AAFW2023 or affiliated/associated with IMG.