Breaking down the different types of foundations to suit your needs.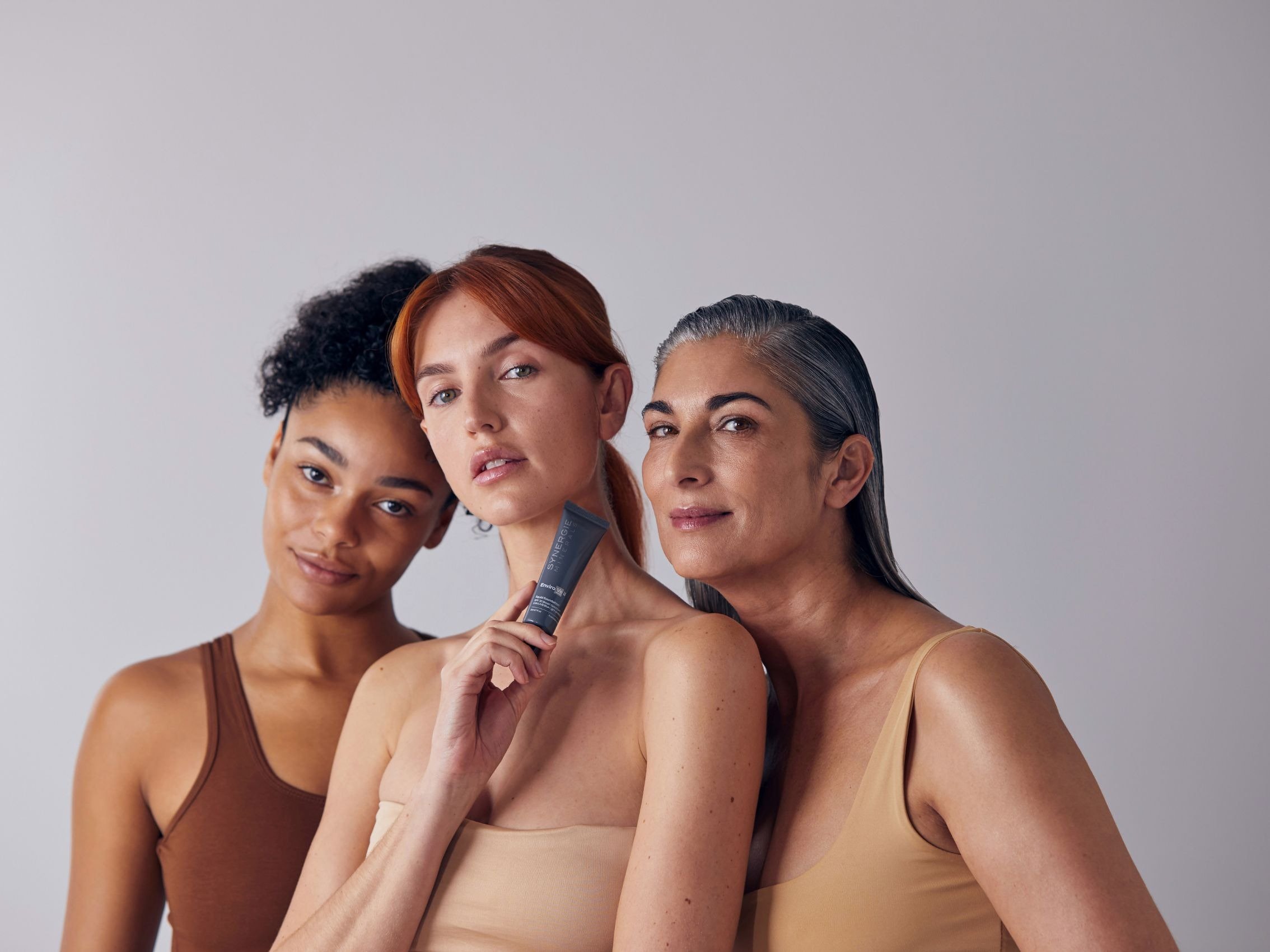 There are so many foundations out there in the market and only so much time and space on your vanity table to spare. We hear you and are here to help simplify the process for you! Synergie Skin's makeup range includes 3 types of foundations, and whilst your choice of foundation will ultimately come down to personal preference, desired finish and coverage type, there are different benefits across our range that will help you select your next go-to.
Determining your skin type
Understanding your skin type can help you choose a foundation that not only enhances your complexion but also addresses specific concerns. Skin types are determined by the amount of oil produced by the skin and its level of sensitivity. These characteristics of your skin are generally visible, and are usually divided into broad categories, including:
1. Oily
Characterised by overproduction of oil, which can lead to a shiny appearance and increased risk of clogged pores. If you have oily skin, opt for oil-free or matte-finish foundations. Look for foundations that offer long-lasting coverage and control excess oil throughout the day. Matte foundations can help minimise shine and keep your skin looking fresh.
2. Combination
Typically, the T-zone (chin, nose, and forehead) is oilier due to the presence of more activity in the oil glands in that area, while the rest of the face may have normal or dry skin. For combination skin, choose a foundation that provides balanced coverage. Consider using a matte foundation in the T-zone (forehead, nose, chin) where oiliness tends to occur, and a hydrating formula on drier areas. This approach ensures an even finish without emphasising either extreme.
3. Normal
Considered the ideal skin type from a health perspective, it is well-balanced with adequate oil production and minimal sensitivity. This is the rarest (and most fortunate) skin type! Those with normal skin have the flexibility to choose from a variety of foundation formulas. A light to medium coverage foundation with a natural finish can enhance your complexion while allowing your skin's natural radiance to shine through.
4. Dry
Lacking in oil, water, or both, dry skin often feels tight, rough, and may experience flakiness or itchiness. Opt for hydrating and moisturisng foundations that provide a dewy or satin finish. These foundations can help add a luminous glow to dry skin and prevent a cakey appearance. Look for formulas enriched with ingredients like hyaluronic acid to boost hydration.
5. Sensitive
Reactive to external triggers and easily irritated, sensitive skin may exhibit redness, stinging, or a tendency to develop rashes. Sensitive skin may also be dry due to flaking and water loss. If you have sensitive skin, choose foundations that are hypoallergenic and free from potential irritants. Mineral-based or gentle, fragrance-free foundations can help minimize the risk of skin reactions and redness.
6. Mature
Mature skin benefits from foundations with a lightweight, buildable formula that doesn't settle into fine lines and wrinkles. Look for foundations with hydrating properties and a radiant finish to provide a more youthful appearance.
Looking for more information on skin types and skin conditions? Read our blog: What Skin Type Am I?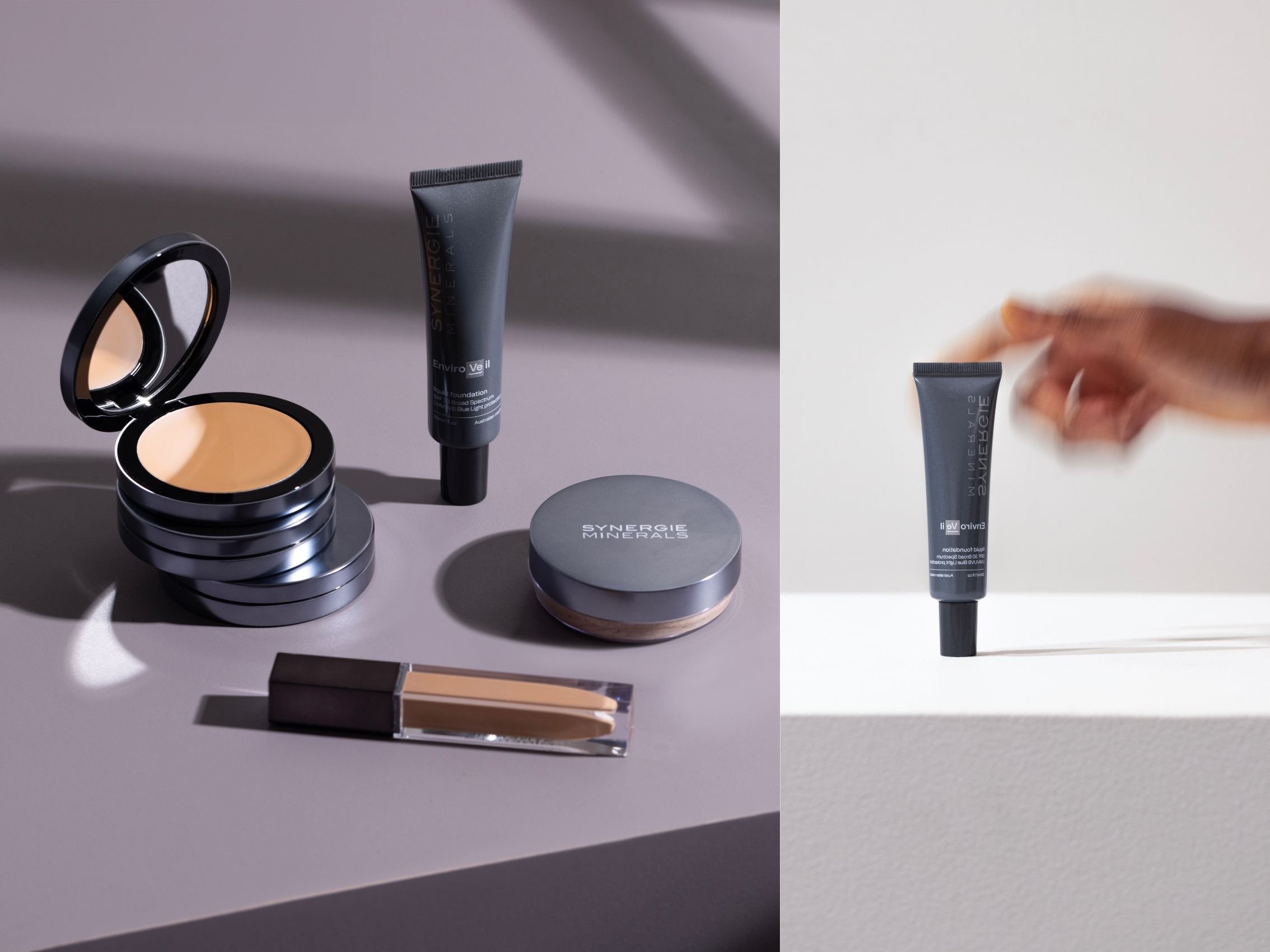 Finish Vs Coverage
So now that we have an understanding of how foundations may interact with skin type, let's discuss the important differentiating factors between finish and coverage. These factors determine how the foundation will appear on your skin, how well it conceals imperfections, and the overall effect it creates. Let's compare the two:
Finish:
The finish of a foundation refers to how it appears on the skin's surface once applied. It dictates the texture, glow, and overall look of your complexion. There are several finish options available, each offering a distinct aesthetic effect:
Matte Finish: A matte finish foundation provides a velvety, shine-free appearance. It's ideal for those with oily or combination skin, as it helps control excess oil and reduces shine throughout the day. Matte foundations offer a more natural look and are suitable for everyday wear.
Dewy Finish: A dewy finish foundation imparts a luminous, radiant glow to the skin. It's great for dry or mature skin types, as it adds hydration and enhances a youthful appearance. Dewy foundations create a healthy, fresh-faced look and are perfect for achieving a radiant complexion.
Natural Finish: A natural finish foundation strikes a balance between matte and dewy. It provides a subtle glow without excessive shine or oiliness. Natural finish foundations are versatile and work well for various skin types, making them a popular choice for many.
Coverage:
Coverage refers to the level of pigmentation in a foundation and its ability to conceal imperfections and even out skin tone. Different coverage levels cater to various needs and preferences:
Sheer Coverage: Sheer coverage foundations offer a light veil of color that allows your natural skin to show through. They provide a delicate enhancement and are perfect for a no-makeup makeup look or for those with relatively clear skin who want a subtle touch of color.
Light to Medium Coverage: This coverage strikes a balance between concealing minor imperfections while maintaining a natural appearance. Light to medium cover foundation evens out skin tone and minimizes redness or discoloration without looking heavy.
Medium to Full Coverage: A medium to full coverage foundation provides significant pigmentation and can effectively cover blemishes, acne scars, and uneven skin tone. They are suitable for special occasions or when you want a more polished, flawless look.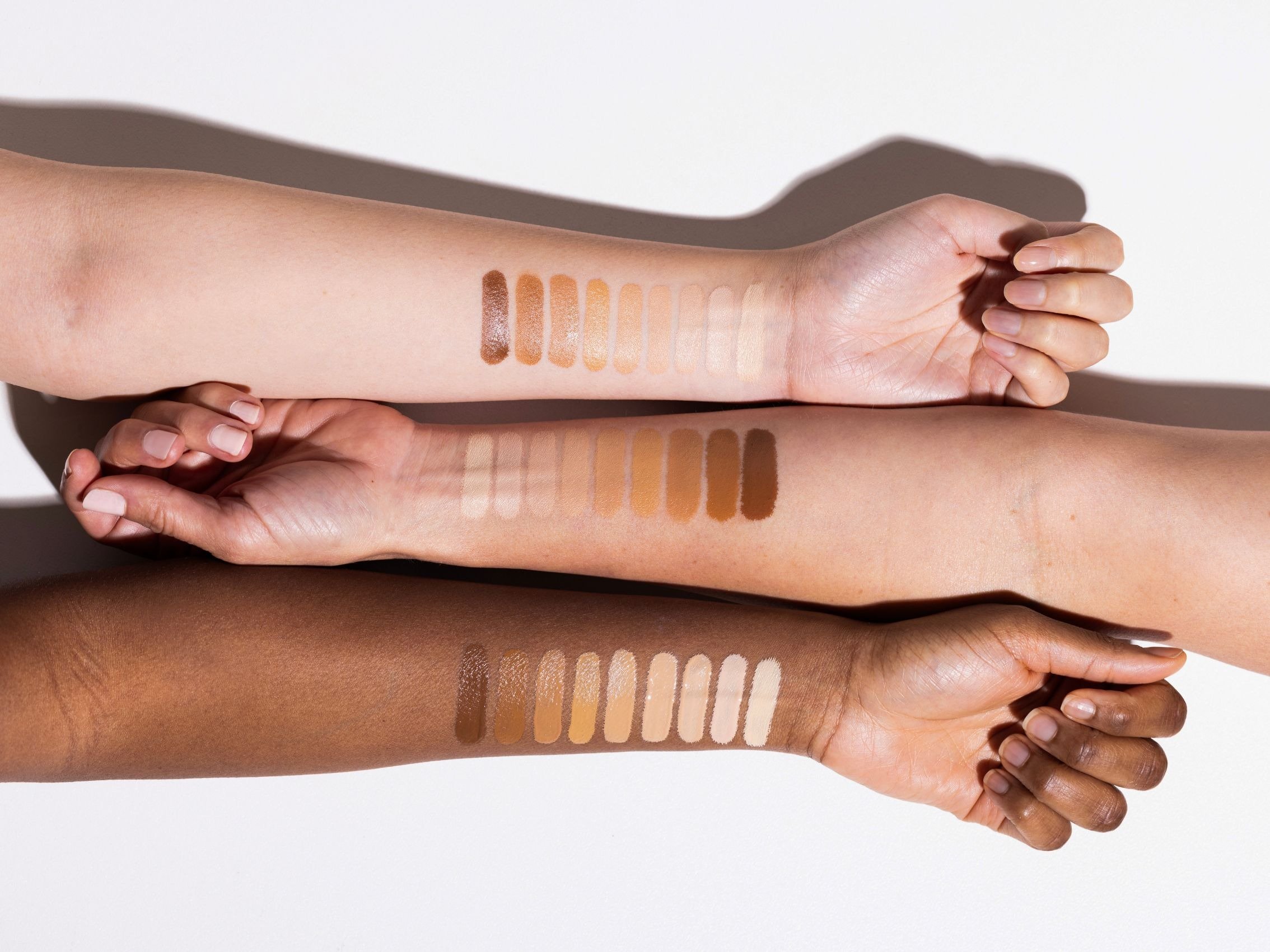 Our recommendations from the Synergie Skin Suite
The interplay between finish and coverage is essential for achieving a makeup look that enhances your natural beauty while addressing your specific skin concerns. Choosing the right combination ensures that your foundation fits seamlessly into your routine and empowers you to express your unique style and confidence. With the above information in mind, here are our top recommended foundations from the Synergie Skin suite:
Cream foundation

Dewy finish, medium-full coverage
---
MineralWhip provides long lasting, flawless coverage for your face throughout the day. This antioxidant cream foundation has been formulated to provide high sun protection as it contains Synergie Skin's signature zinc oxide. Pair with the Airbrush for best results. Boasting a whopping SPF 40 PA++++, MineralWhip is a 4-in-1 primer, antioxidant foundation, concealer and UV/Blue light protector. The cream foundation can effectively cover acne blemishes, pigmentation and redness, with its dewy finish minimising fine lines. MineralWhip can be applied to all skin types as the oils are non-comedogenic (not pore-clogging) but I find it great for dry skin and winter climates. It provides fuller coverage compared to your typical liquid/powder foundations, which means a little goes a very long way. The creamy consistency is buildable and easy to blend. The whip foundation contains beneficial ingredients which stimulate collagen production, promote skin healing and contain antioxidants that reverse free radical cell damage. If you suffer from rosacea or have dry, sensitive, sun damaged or ageing skin, MineralWhip is perfect for you!
Liquid foundation
Dewy finish, light-medium coverage
---
More than just a foundation, EnviroVeil is a liquid mineral high-performance foundation developed for everyday wear and features active skincare ingredients, broad-spectrum SPF30, and environmental protection. This silky, light-reflective formula goes on like your second skin, leaving you with a natural, radiant and dewy complexion whilst simultaneously providing an antioxidant-rich veil against blue light, UVA, UVB and free radical damage. Formulated as an everyday functional foundation, EnviroVeil combines the benefits of pure zinc oxide and titanium dioxide, natural mineral pigment from iron oxides, polygonum aviculare, lycopene, and betaine to deliver a flawless base, advanced skin protection and treat skin concerns.

Loose mineral foundation
Semi-Matte finish, light-medium coverage

---
Consider Second Skin Crush your second skin! This loose powder foundation is extremely versatile as you can build it up in layers from a one-layer light base to a three-layer full airbrushed coverage. Second Skin Crush has the highest level of UV/infrared protection offering over 50% zinc, non-nanoparticle titanium and iron oxides for SPF 40 PA++++ protection. I have also added hydrating liposomes to replenish skin moisture in warmer climates.
For best results pair with the Kabuki Brush. Its high density, non-shedding vegan fibres provide a natural semi-matte finish. Finish with Second Skin Crushwith oil absorbing properties to make it last all day. Although all skin types can use Second Skin Crush, this loose mineral foundation is oil-free and is a particularly good choice for acne sufferers and those with oily skin. The high levels of zinc oxide help to reduce acne blemishes and skin irritation. It's also a great choice for hot and humid climates.
Conclusion
Ultimately, selecting the right foundation for your skin type enhances your natural beauty and addresses specific concerns. It's important to test foundations before committing to a full application to ensure they match your skin tone and provide the desired finish. Consulting with a skincare professional or makeup artist can also help you find the perfect foundation that complements your skin type and overall aesthetic goals.