Synergie Skin named official skincare partner of Afterpay Australian Fashion Week May 9-13, 2022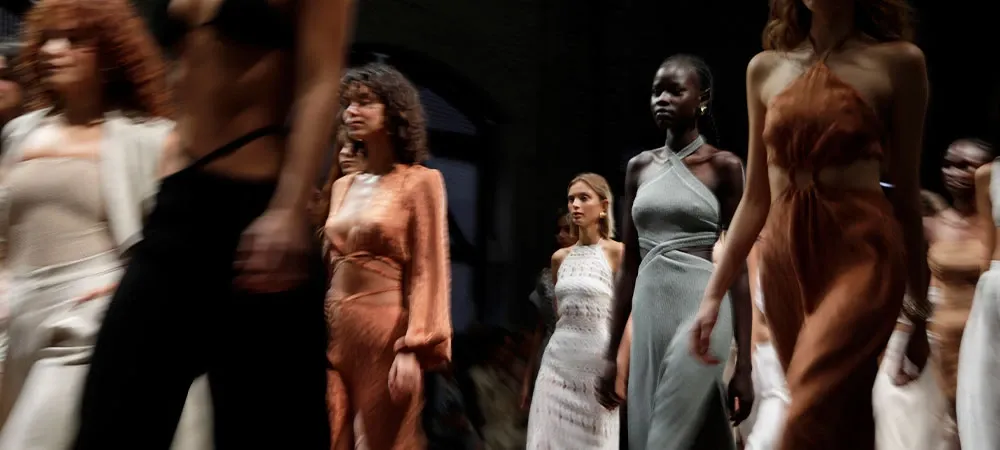 With the crème de la crème of fashion and beauty coming together for Afterpay Australian Fashion Week (AAFW), Melbourne made and owned Synergie Skin is honoured to be named the official skincare partner of AAFW.
"Seasonal styles may come and go, but radiant skin is always in," says Terri Vinson, cosmetic chemist and founder of Synergie Skin, "We are thrilled to showcase clean Australian skincare in the spotlight as the official skincare partner of AAFW. Educating and empowering people to make informed decisions about their skin is our number one passion, and this sponsorship gives us the perfect platform to communicate this message."
As the models strut the runway wearing Synergie Skin, spectators will enjoy a range of special events - both live and over social media - including product samplings, speaking seminars, and influencer giveaways.
All Synergie Skin products are cruelty-free, responsibly sourced, and produced entirely on Australian shores to support local jobs. In addition to creating clean, results-driven products, Synergie Skin is committed to keeping our planet clean by running an environmentally positive manufacturing system.
"I pioneered the term Clean Science® as the synergy between science and nature, and have centred Synergie Skin around this core philosophy. All products are free of questionable ingredients and backed by clinical data. It's effective, science-based skincare that improves the long-term health of your skin. When you feel beautiful on the outside, it gives you inner confidence to take on the world."
While it's hard to pick favourites, Vinson lists her best-sellers that will be featured in AAFW such as ÜberZinc and the award-winning Vitamin B serum.
ÜberZinc - With a rich blend of potent minerals and antioxidants to combat environmental damage, this forward-thinking hybrid formula is both a physical sunscreen with UVA/UVB barriers and a luxurious moisturiser that will nourish your skin.
Vitamin B - This pioneering formula with 13% vitamin B (niacinamide) strengthens barrier function and boosts ceramides to promote a luminous glow within days. As a multitasking cosmeceutical, it regulates oil flow, minimises skin redness, addresses lines, and reduces uneven skin tone for youthful, dewy skin.
Effica C - An exclusive AAFW preview of our yet to be released Vitamin C serum, launching 24th May. Vitamin C and CoQ10 work in synergy to deliver potent antioxidants, reduce the signs of ageing, promote dermal fibroblast health, and protect from free-radical damage.
ReClaim - Known as a 'facelift in a jar', this luxurious anti-ageing moisturiser is formulated with Lapacho bark extract: an evidence-based ingredient that slows ageing on a chromosomal level. This formula instantly lifts, smooths fine lines and deeply hydrates skin.
LumiBalance - Harnessing the power of 8 active oils, LumiBalance is a lightweight facial oil that moisturises the skin, reduces fine lines, soothes sensitivity and enhances radiance for a luminous complexion.
Dermiotic - Fortified with prebiotics and probiotics to balance the surface microbiome of the skin, a few drops will leave your skin feeling soothed and restored.
TriDration B - Formulated with niacinamide and hyaluronic acid, this 5-minute express mask offers on-the-go results, leaving the skin plump and intensely hydrated from within.
Second Skin Crush - A loose mineral foundation with broad-spectrum SPF 40 that provides a semi-matte finish with slow-release botanical liposomes for all-day hydration and dewy skin.
Mineral Whip - A creamy foundation with broad spectrum SPF 40 that offers medium to full coverage. Infused with antioxidants, zinc oxide, iron oxides and titanium dioxide for complete solar protection, this non-comedogenic (i.e., non-pore blocking) formula glides on, hides imperfections and blends beautifully for a flawless finish.