VaNish
Skin brightening serum for balancing uneven skin tone
30ml
Where to buy
Brightens uneven skin tone and sun damage

Fortified with tyrosinase inhibitors, tranexamic acid, vitamin B3 and skin brighteners

Ideal for preparing skin for chemical peels, laser and IPL treatments
Description
This advanced brightening serum that uses a multi-level approach to address visible skin discolouration and uneven skin tone. Formula...
This advanced brightening serum that uses a multi-level approach to address visible skin discolouration and uneven skin tone. Formulated with a unique blend of tranexamic acid, peptides and vitamin B3, VaNish serum enhances skin clarity and luminosity.
This product is exclusive to Synergie Practitioner clinics.
Tranexamic acid: A powerful cosmeceutical that can inhibit and reduce UV-induced hyperpigmentation and has an ability to reduce the severity of melasma (hormonally induced hyperpigmentation).
Saccharide isomerate: A marine based ingredient that lightens skin and evens skin tone. It addresses hyperpigmentation by acting on multiple stages of skin pigment production.
Plankton extract: Consistently modulates several steps that provide pigmentation. It regulates gene expression of melanogenetic signaling proteins to decrease the formation and maturation of melanosomes, reduces tyrosinase levels and activity, and diminishes melanin uptake by keratinocytes.
Niacinamide: In addition to barrier protection, immunity, hydration, and collagen stimulation, niacinamide also address inflammation (which is often a cause of PIH) and reduces the appearance of hyperpigmentation by preventing melanin transfer via melanosomes from the melanocyte to the keratinocyte.
Liquorice root extract: Liquorice extract significantly improves uneven skin tone and discolouration whilst reducing redness. It is also a powerful botanical anti-inflammatory that can greatly assist the treatment of hyperpigmentation.
Bearberry leaf extract: This botanical ingredient, extracted from the leaves of the Uva Ursi shrub, is able to reduce melanin production to brighten the skin and reduce pigmentation.
Hydrolysed tomato skin (lycopene): A potent antioxidant that is more powerful than green tea extract. Lycopene can neutralise harmful free radical damage, which can lead to ageing and increased skin discolouration.
Tranexamic acid is the new 'it' ingredient for treating hyperpigmentation at the source. This evidence-based ingredient is non irritating and is also recommended for treating hormonal melasma and red/brown acne scars. It reduces the activity of the melanin triggers in skin cells to prevent the production of excess pigment and promote an even skin tone.
AQUA (PURIFIED AUSTRALIAN RAIN WATER), GLYCERIN , NIACINAMIDE, TRANEXAMIC ACID, METHYLPROPANEDIOL, HYDROLYZED TOMATO SKIN, POLYSORBATE 80, DIPOTASSIUM GLYCYRRHIZINATE, CAPRYLYL GLYCOL, XANTHAN GUM, CYMBOPOGON MARTINI (PALMAROSA) OIL, PHOSPHOLIPIDS, PHENYLPROPANOL, ALCOHOL (GRAIN DERIVED), ARCTOSTAPHYLOS UVA URSI (BEARBERRY) LEAF EXTRACT, CITRIC ACID, PHENETHYL ALCOHOL, SACCHARIDE ISOMERATE, SODIUM BENZOATE, PLANKTON EXTRACT, POTASSIUM SORBATE, SODIUM HYDROXIDE, GERANIOL, LINALOOL, D-LIMONENE, CITRAL, FARNESOL.
As part of our commitment to innovation, Synergie formulations are updated from time to time. Always refer to the ingredient list on the box for the most current version.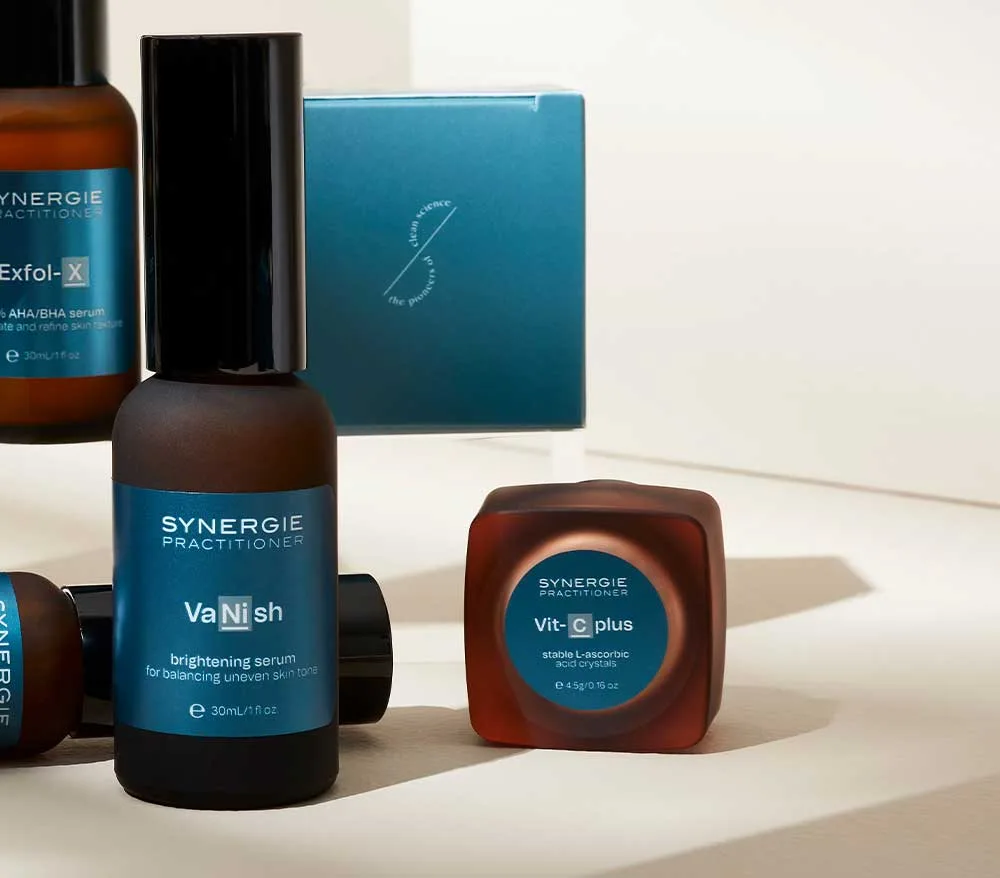 Directions
For overall brightening, apply one pump over face and neck. For targeting areas of concern, apply to affected areas only. Always follow with solar protection in the morning.
Apply twice daily for two weeks prior to chemical peels, IPL, laser or any clinical treatments.