Plabeau G4+
Portable plasma skin rejuvenation device
Regular price

Sale price

A$529.00

Unit price

per
or 4 payments of $132.25 with
Antimicrobial action: Effectively kills harmful microbes which cause acne and minor irritation.

Anti-irritant action: May reduce the appearance of atopic dermatitis, acne, inflammation and other minor skin infections.

Accelerated skin regeneration: Plasma ions promote activation of fibroblasts, which are responsible for the synthesis of collagen and elastin. Studies show acceleration of skin regeneration by an average of 50%.

Anti-ageing: The Plabeau boosts collagen production and boosts blood circulation and the formation of new vessels which increases the supply of nutrients to the skin. Plasma ions improve elasticity and texture, refine pores improves clarity and reduces fine lines and wrinkles. Studies show 26% improvement of wrinkles after 6 weeks of use.

Hydration: Increases hydrophilicity of cells to enhance penetration of serums and uptake of water.
Description
A complimentary Dermiotic pre-serum elixir is included with every purchase of a Plabeau G4+ device. Dermiotic balances the skin bacte...
A complimentary Dermiotic pre-serum elixir is included with every purchase of a Plabeau G4+ device. Dermiotic balances the skin bacteria, and addresses symptoms of inflammation and imbalance by boosting skin resistance.

Plabeau G4+ employs non-invasive, cool and painless plasma technology to break down air particles into active plasma ions at a rate of 1 billion ions per second.

The Plabeau is the world's first portable beauty device with plasma technology delivering six clinically proven benefits for the skin:


Enhances the absorption of active ingredients
Boosts collagen to reduce the appearance of fine lines and wrinkles
Refines pores and overall texture
Soothes irritated skin
Hydrates
Removes harmful bacteria
When I first studied the clinical data from Plabeau, I knew I was onto something special. The results from the Plabeau device are phenomenal for relieving irritation and regenerating the skin. Whether it's for anti-ageing, acne, redness or dermatitis so many clients will benefit from using the Plabeau. I'm so excited to be the first to bring this to the Australian market.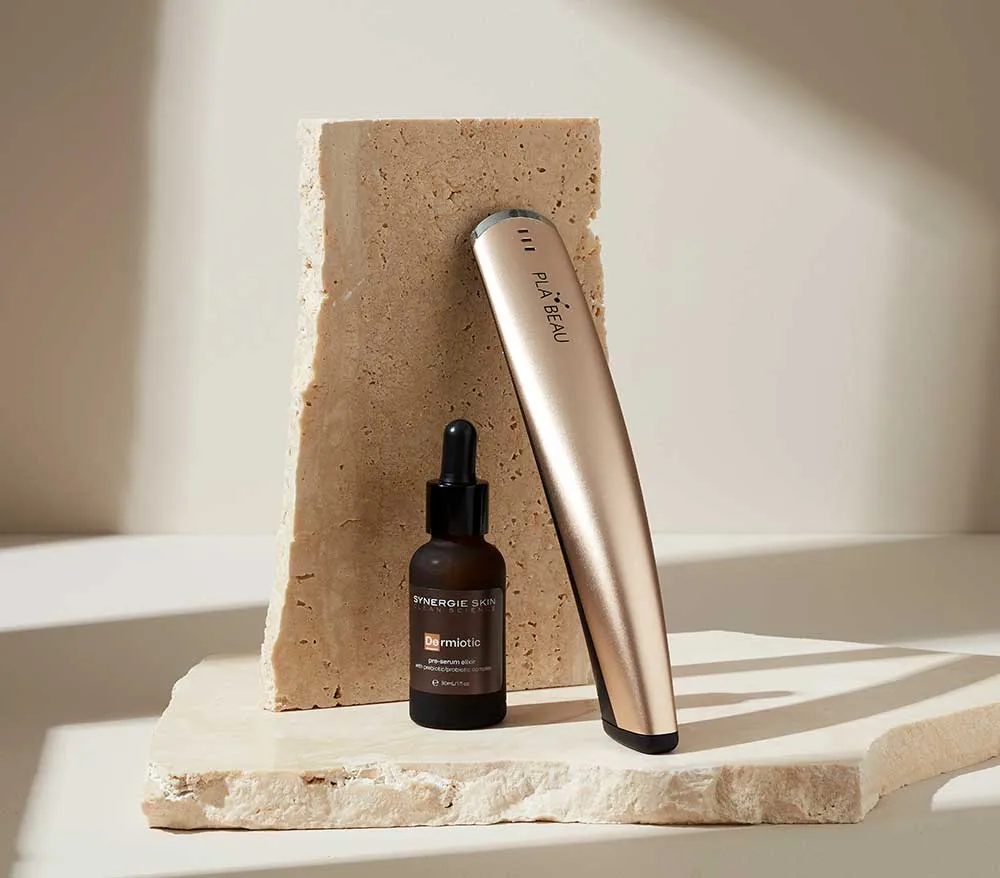 Directions
Cleanse and thoroughly dry the face and neck.
Turn on using the power button on the side of the device.
Slowly scan by hovering Plabeau device just above the skin for 5 - 10 minutes. Apply concentrated care to areas of concern by holding over the area for 10 seconds at a time.
When the plasma is working, you will see a blue light and hear a light buzzing sound.
After 10 minutes, the blue LED light will blink to mark the end of the session. Wipe the device plate clean before next use.
Once the Plabeau is session complete, apply 3-4 drops of Dermiotic and gently pat into the face and neck.
Follow with a moisturiser best suited to your skin type.