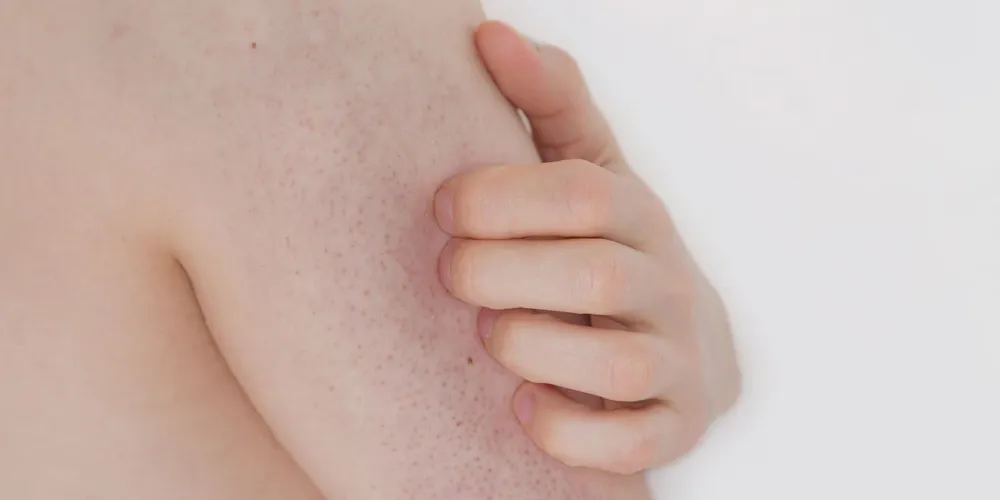 Keratosis pilaris (KP) is a common skin concern that looks like small, dry, non-itchy, dark pink goosebumps. Some of you may also know it as 'follicular keratosis' or colloquially as 'chicken skin'. It can affect the arms, back and thighs, and is caused by pores that get clogged with the skin protein, keratin. This clogging creates that lumpy appearance.
What triggers keratosis pilaris?
There is no actual cure for keratosis pilaris but you can definitely reduce the redness and appearance until the condition clears naturally. People with allergies, asthma or eczema are more prone to KP, and it is more common in adolescents, young adults and females. The good news is that some cases of KP disappear after the age of 30, as there appears to be a hormonal link to flare-ups occurring during puberty. However, if this doesn't go away naturally, I would suggest the following treatment. As tempting as it seems, harsh scrubbing, scratching or rubbing will not cure KP and will only irritate the skin further. Avoid wearing tight clothing for long periods of time, try to keep the skin hydrated with a humidifier by the bed, and avoid bathing in excessively hot water.
Must-have skincare products
The best way to treat this problem is with an AHA/BHA chemical exfoliant. I'd recommend Synergie Skin's BAcne, which is a dual-action exfoliation spray formulated with 19% combination of lactic (AHA) and salicylic (BHA) acids. These two acids work in synergy, with lactic acid exfoliating the skin surface while its partner salicylic acid reaches deeper into the pore to remove the trapped keratin plug. The convenient spray makes it easy to reach the back area, which is often a stubborn spot to reach. Apply to the problem area in the morning immediately after showering. Follow with a light body moisturiser, such as Synergie Skin's B-JuvEnate, to prevent surface flaking and dryness.
Vitamin A is also a key ingredient that is recommended for those with KP to help regulate skin cell turnover. This prevents the keratin from being over produced. Synergie Skin's Ultimate A serum contains stabilised retinol and witch hazel, which reduces redness, improves hydration and stabilises the barrier function of the skin. Alternatively, try the stronger formula Acceler-A serum by Synergie Skin, which contains advanced vitamin A hydroxypinacolone retinoate (HPR), dimethyl isosorbide, coenzyme Q10 and pure green tea. These ingredients work in synergy to clear, refine, brighten and rejuvenate. Apply one pump to affected areas in the evening.
Nutritional tips for controlling it
Although there is no medical study to prove that diet can significantly reduce KP, the following dietary recommendations have been shown to be beneficial. Whilst I do not recommend the radical removal of important food groups from your diet, it may help to limit or temporarily remove certain foods to reduce the severity of KP.
Removing gluten and grains from your diet.
Increasing omega 3 fatty acids with grass fed beef, non-farmed oily fish, walnuts and flaxseed oil.
Reducing dairy intake as the dairy protein casein can lead to skin irritation.
Removing refined sugar and high sugar foods from your diet. This is one thing that I recommend for long term health, not only for the skin but for the entire body. I removed sugar from my diet ten years ago and I have never looked back!
Not sure what products are suitable for your skin type? Head to our Analyse Your Skin quiz to find your routine. Your skin confidence begins here.